Sexual Abuse in Canada's Athletics: A Brief Overview
While sports are commonly thought to "be a safe, healthy environment which contributes to the positive development of young people, it is also an area where violence can manifest itself in various ways, including sexual assault." Between 2 and 8 percent of all Canadian athletes are victims in sexual abuse at some point in their careers, a number which may come as a surprise to sports fans and sexual abuse prevention advocates alike.
Concerns for the safety and wellbeing of child and young adult victims have seen a sharp rise in recent years as incidents of sexual abuse in any environment—including athletics—are brought to the public's attention thanks to the #MeToo movement and similar visibility efforts.
In as many as 98 percent of these incidents, the perpetrators of sexual abuse were coaches, teachers or instructors of the victims, violating the sense of trust and kinship that is highly valued in the context of an athletic team.
Is Sexual Abuse in Elite Sports a Hidden Epidemic?
Almost a decade ago former NHL star Theo Fleury publicly admitted that he had been sexually abused by his junior hockey coach Graham James.
Former Penn State football coach Jerry Sandusky was found guilty of 45 or 48 charges of sexual abuse against minors.
More recent headlines have documented the abusive history of Dr. Larry Nassar, the disgraced former USGA Gymnastics physician who is facing charges he abused more than 200 young women and children over two decades.
In June here in Canada more than a dozen former members of Canada's national ski team came forward to disclose their allegations of sexual abuse against former coach Bertrand Charest.
With new allegations cropping up almost every month, one has to ask if sexual abuse in elite sports is an epidemic that is only now being recognized. I have written before about how sports organizations may be at risk of liability for sexual abuse.
How Elite Sports Organizations Define Sexual Abuse
Federally Sports Minister Kirsty Duncan has announced that any national sports organization that doesn't report allegations of abuse will lose their federal funding.
Hockey Canada defines sexual abuse in athletics as any incident in which "a young person is used by an older child, adolescent or adult for his or her own sexual stimulation or gratification." This definition is broken down further into two categories—contact and non-contact—based on the premise of whether or not the abuser had direct physical contact with the victim during the incident(s).
Sexual abuse allegations are now taken seriously by Hockey Canada, and requires that all representatives of the organization who:
[have] reasonable grounds to suspect that a participant is or may be suffering or may have suffered from emotional, physical abuse and neglect and/or sexual abuse shall immediately report the suspicion and the information on which it is based to the local child protection agency and/or the local police detachment.
The handbooks and codes of conduct from other elite sports organizations, such as Canada Soccer's Code of Conduct and Ethics and Canada Basketball's Code of Conduct of Ethics, place similar emphasis on the prevention and the reporting of sexual abuse which transpires between players, their coaches and other representatives.
Hopefully these reporting requirements will protect child athletes in the future.
Speaking Out Against Sexual Abuse in Sports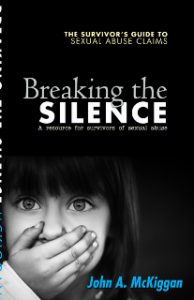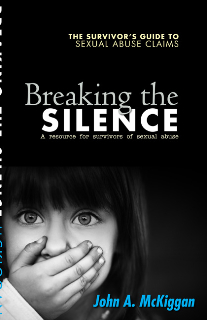 But what about the damage already done to children, now adults, who suffered sexual abuse while participating in sports in the past?
For the most part, victims who have spoken out against their abusers do so in the hopes that their abusers will be brought to justice for their heinous crimes. At times, pursuing legal actions against a current or former abuser can seem like a daunting task, and many victims feel silenced and have immense difficulty talking about what happened to them.
In the context of athletic teams specifically, the type of bond and trust formed between coaches and players—or even among players themselves—can be as strong as a familial one. Unfortunately, when this bond or trust is broken, getting answers for what transpired and speaking out about their experiences can be a traumatic and immensely difficult task.
This one of the many reasons why John McKiggan wrote Breaking the Silence: The Survivor's Guide to Abuse Compensation Claims. By allowing survivors to learn about their legal options and ways to seek help and speak out against their abusers in the privacy of their home, our hope is that we can be an empowering force towards sexual abuse survivors across Canada.
We encourage anyone who is being (or has been) sexually abused to seek help whenever you (or they) are ready to. If you or someone you know on a sports team is suspected of being sexually abused by a coach, mentor or even another teammate, know that speaking out to bring an abuser to justice is a powerful action that has helped break the cycle of abuse in the past.
For more information about Breaking the Silence, or if you wish to review legal options against a known or suspected abuser, contact us today to discuss over your case, and help us bring an end to sexual abuse in all athletics across Canada.